Objective:

"You have a great project underway. FWS" ~CEO Federal Express Nov 2008

"The most persistent man in television." ~ Good Morning America, July 2007

"Steven C. Barber is the most relentless human being we've ever encountered."

~The Miami Herald, Jan 2008

"We love your enthusiasm and think you're great." ~ Harpo Productions, Feb 2008

"Your nerve is truly beyond anyone I've ever encountered. I think it's great..." ~ Michael Bay, March 2008


Feb 2008: http://www.youtube.com/watch?v=6siYu1j9kog

Watch for Steven throughout the whole 9-minute scene on episode 55.

http://www.funnyordie.com/videos/bb876dbe6b/tv-show-featuring-steven-c-barber (VIDEO)


Limo to the Curb 10/14/07 <-- click here to watch!!!




Watch what happens when Steven is shooting his audition tape for TVGuide's "America's Next Producer" and his path crosses with the actual filming of one of Larry David's new episodes of "Curb." http://www.youtube.com/watch?v=PGPZJr-8Pfg

ENTERTAINMENT REPORTER VIDEO 2007: http://www.youtube.com/watch?v=hIz0A2WAkQ0

Watch Steven (for his third year in a row) Wednesday night Jan 31st on Jay Leno's "The Tonight Show" on NBC as he pitches the first Bunny to the International Space Station. This is the third year in a row Steven is on "Pitch to America." Click on this link to watch:

http://www.youtube.com/watch?v=L8O2LDPdXCY

More comedy from funny guy...

Steven's 4th Blind Date: http://www.funnyordie.com/videos/48ff7828cc/comedy-realtiy-tv-show-2005-from-tamarahenry

World record title holder Blind Date reality TV star Steven Barber may need a "cocktail!" after his current show! Watch this outrageous comedic tv personality on the Oxygen network Tuesday night August 22nd, and on Entertainment Tonight July 20th, 2006, and on the 100th episode of "Watch This" on TVGuide Channel on Monday August 21st.

Comedy Reality Television: http://www.funnyordie.com/videos/d3ff427284/comedy-realtiy-tv-show-august-2006-from-tamarahenry

Reality Television Star Steven C. Barber lands yet another starring role - this time for Animal Planet!!

Watch the Animal Planet slide show until the hour-long show airs March 1, 2008:

.

Steven's next pitch will be to Oxygen. He pitched his show to MTV in New York, February 2007. He pitched his show to VH1 in September 2006. He pitched to Comedy Central mid March 2006 and E! in April 2006. He is pitching his TV show "Rejection." Steven showed a clip from his 17-minute "Rejection" pilot on Adelphia/Time Warner Sunday night July 16th, here is the condensed 5-minute version:

http://one.revver.com/watch/212575/flv

ABC Monday Night Football Skit: http://www.youtube.com/watch?v=3l89j-7UxCc




Film




Steven is currently directing and producing his own documentary on Punchin' Pat (post-production) and Return to Tarawa and is currently airing on the Discovery Network's Military Channel and Unbeaten is qualifying for Oscar nominations... the paraplegic wheel-chair race which was shot July15-21st in Fairbanks, AK and also in Beijing, China! www.VanillaFire.com

Return to Tawawa, Director/Producer, Narrator - Ed Harris

Unbeaten, Executive Producer, Narrator - Dan Aykroyd

Ocean's 13, Casino Secutiry, Principal - George Clooney

Time Cop, FBI Agent, Principal - Jean Claude Van Damme

Unforgiven, Cowboy, Principal - Clint Eastwood

Intersection, Driver, Principal - Richard Gere

Waiting to Exhale, Waiter, Principal - Whitney Houston

Jerry McGuire, Reporter, Principal - Tom Cruise

Killer, Bartender, Principal - Mimi Rogers

Television


IMDb: http://www.imdb.com/name/nm2907601/

"Campbell Brown Mash-Up", Award Winning Filmmaker, CNN

"Larry King Live", Award Winning Filmmaker, CNN

"5PM News", Filmmaker, Global TV Canada

"Daily 10", Filmmaker, Shaw Cable TV Vancouver

"CNN Entertainment", Sundance Filmmaker, CNN

"Access Hollywood", Balloon Boy Filmmaker, NBC

"Around the Services", Filmmaker, Pentagon Channel

"The Live Desk", Filmmaker, Fox National News

"Return to Tarawa", Self, Discovery Network's Military Channel

"Pitch to America", Special Guest March 2007, The Tonight Show with Jay Leno

"Petfinder", Reality Star, 3 Ball Productions / Animal Planet

"Curb Your Enthusiasm", Featured Fall 2007 Episode 55, Larry David / HBO

"Pitch to America", Special Guest March 2006, The Tonight Show with Jay Leno

"Entertainment Tonight," July 20, 2006, CBS

"Breaking Up with Shannen Doherty", Principal, Hallock Healey/LeadingAlternative/Oxygen

"IN" with Tamara Henry, Guest, Time Warner

"Blind Date", world record 4th time, Garfinkle/KTLA/Fox

"Before & After'noon Movies", Guest Star, USA Networks

"Pitch America", Special Guest March 2005, The Tonight Show with Jay Lenno

"The Steven Barber Show", Producer/Host, Adelphia

"You've Been Sacked", Monday Night Football, ABC, 2004

"Sex Wars", Contestant, CBS Television, 2000

"Blind Date", Recurring, Hollywood Productions, 2000

"Highlander", Knight, Vancouver Productions, 1994

"X-Files", FBI Agent, Chris Carter Productions, 1993

"Cobra", Cop, Vancouver Productions, 1993

"The Commish", Orderly, Cannell Productions, 1993

Theater


Orpheus Descending, Val, Lion Star Theater, Studio City

Winter in the Park, Victor, Lion Star Theater, Studio City

Kid Champion, Kid, Stoner Community Theater, LA

The Outsiders, Dallas, Banner Theater, Scottsdale AZ
Steven's new book:
Facebook: http://www.facebook.com/pages/Below-The-Waterline/123094597750554
Order Now: http://www.amazon.com/BELOW-WATERLINE-Steven-C-Barber/dp/1425967655
5,000,000 nautical miles looking for love on 12 cruise ships...
http://www.authorhouse.com/BookStore/ItemDetail.aspx?bookid=41537
http://community.webshots.com/user/stevencbarber
Below the Waterline
Making Waves In Hollywood

What happens when the reality tv star who holds the world record for reality show appearances re-lives the journey of his youth which way-laid him from his ascension to fame and fortune in Hollywood? A battle with alcoholism, rebellion against authority, and an obsession with the loss of the woman that he loved, lands him in a city that slams shut in his face at every turn with rejection.
Author Steven C. Barber answers these questions and more in Below the Waterline (200 pp., tpb, $24.95), a collection of 12 cruise ship journeys of suspense and imagination. Barber is the great nephew of Edith Wharton, the first female writer to win a Pulitzer. His four years in the military escalated authority issues which led to him getting thrown off nineteen cruise ships, recounted in this entertaining novel.
World famous talk show host and creator of Jeopardy Merv Griffin, says: "I can't wait to see this on the big screen!"
Below the Waterline covers a range of territory from life in the 80s to romance of The Love Boat, a perfect cruise chip read.
CEO of Universal Ron Meyer says of Barber's story of hi-jinx on the high seas: "Steven Barber's novel Below the Waterline was passed through our development department and was given high grades and five stars."
Creator of NYPD Blue Steven Bochco says: "Your involvement with this subject has passion for all time. Keep up the good work."
Director/producer Mike Binder says, "I do think you're stuff is interesting and I love your tenacity. It needs to be bottled and sold. There's no doubt you'll get 'a break' as you say. I wish you the luck I know you don't really need."
Some stories have their own heart (sometimes a warm, fuzzy heart, sometimes a twisted, black, and rotten heart). He has a fresh and true voice that will affect you, disturb you, enrage you, or make you laugh. He will not, however, leave you cold."
Steven C. Barber works as a documentary film maker and just finished filming the longest wheel chair race in the world. He is now preparing to go the South Pacific to document an 88-year-old WWII Veteran who is returning to the bloodiest battle in the history of war-fare, Tarawa. He studied Creative Writing at the Western Kentucky University and moved to Southern California in 1984. He is currently producing several documentaries, one of which was recently featured on Good Morning America. Featured on Jay Leno for the past three years in a row, Barber's comedic personality and entrepreneurial skills can be seen at his website at www.VanillaFire.com and www.VanillaFire.mySite.com
ISBN 978-1-4259-6765-9
To place orders for the book, contact:
Amazon, Borders, and Barnes & Noble
Phone (310) 806-5833
e-mail: stevencbarber@gmail.com
URL: www.vanillafire.com www.steven.mysite.com
To arrange a book signing or interview, contact Ed Lozzi, PR
.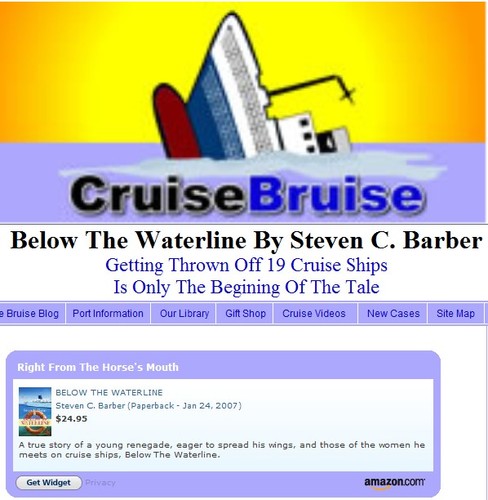 To some degree, I think many people in the U.S., Canada, the United Kingdom, Australia and New Zealand can relate to Steven C. Barber, AKA Steven Charles Wharton at least when they were in or had recently graduated from college.

Barber, a flighty bird, hatched into a gold feather-lined nest, like a chicken with his head cut off, hell-bent on blindly navigating his own flight path through the rough skies and seas of the world, out from under the protective wing of his mother and heavily-weighted, pecking bill of his father, flies the coop, off on an adventure of a lifetime.

Like a seagull, looking to consume whatever life is willing to serve up to him, with as little expelled effort as possible, he begins his adventure far from his flock, sailing the high seas. As he flies from one cruise line to another, soaring to ever higher levels of misdeeds, he discovers there is more to cruise ships, than iron, paint, wood and brass, a perfect haven for the foul acts of fowl.

There are times the pages offer up rib-splitting moments, other times his tale evokes anger, and somewhere in between a few tears are shed, for various reasons, though never shed for him. He is a man you can love to hate, or hate to love and he is a new partner with Cruise Bruise. I welcome him aboard.

You may find his behavior reckless, dangerous, immoral, unethical and even disgusting while being sprinkled high and low with acts that are illegal in most countries. No matter what you feel, Below The Waterline gives all passengers an eye-opener into the behavior of those who work aboard cruise ships.

To say it is not pretty, would be to discredit Barber's book. The fact is, the tales in this book are sinfully ugly, like a ten inch cancerous mole growing on the face of a child molesting preacher. It serves as warning to all, of the treachery within.

After reading the book, it is hard to say who you will loath more, the cruise industry as a whole, a certain cruise line, those who supervised Barber or Barber himself. You may end up just wanting to take a long hot shower, to cleanse yourself of the dirt that is eyeball deep within the pages of this book.

For those who are hungry to break as many laws in as many countries as possible, it is a how-to-guide for the masses of renegades. For those who actually thought there was a difference between a Love Boat and a Sex Boat, you will discover that there is no LOVE on any of these "Boats", but plenty of love of sex, drugs and rock and roll, if you know where to look, Below The Waterline.

Though Barber has been thrown off cruise ships nineteen times, his critique of the incidents show an overall unwillingness of the industry to turn a blind eye to misbehavior by those who work aboard their ships, depending on who is being caught and who is catching them.

Should a staff member have his assignment terminated because he received oral sex in a public area of the ship and got caught by security? I think most would say, "Yes!". But, that was not the reason Barber lost his assignment on this particular occasion. It was instead because a passenger complained to corporate about the type of music he was offering as a DJ in the ship's lounge, just not to her liking. Justice is warped on cruise ships, but without legislation it is all there is. You will get an up close and personal look at that justice, such as it is.

Barber was nailed for dancing while working as a DJ. He was dancing while he was serving up music, which was really more like bopping to the music. For that, he was raked over the coals and given "Strike One" in a " Three Strikes You're Out system. The only problem with that incident, was the fact that it was really Strike Two, after being caught having sex in a lifeboat. This particular assignment's adventures pale in comparison to some of the acts in his past stretch-the-limits lifestyle.

Whether corporate deals with a heavy hand or not when it comes to those who work aboard their vessels, one thing is clear. The ships have a reputation among crew, and it is not good from a moral standards point of view.

In one particular passage, Barber describes a conversation he had with the brother of a crew member who worked aboard a cruise ship. The man told Barber, " [he] gets more ass than a toilet seat, he does. A bloody orgy on board twenty-four seven he tells me."
His cruise ship work history includes excesses in illegal drugs, alcohol and sex, none of which is surprising to me. From all I have heard from or about western cruise ship workers, life is a party, an orgy for a fact aboard the passengers ships that sail the high seas.

Below The Waterline is the Love Boat television series, HBO version seen after 11pm at night. Just as the Love Boat crew, staff and officers went through one woman after another, so does Barber. You begin to see a pattern.

The Barber story outlines the good and bad of the industry. For some, good drugs and good "ass" make for a great cruise, while other's wouldn't take a cruise that was known for those things, if it was the last day of their life, S before E, E before X.

For families, there is an important message within the pages of Below The Waterline. Cruising on some ships is nothing more than cruising for a bruising, a place children should never be, unless you would take your children to a Las Vegas "Ranch" to meet some 'ladies' and some 'Johns'.

If you are a parent of small children or young adults, you need to read this book. Once you have, you can properly prepare your children for the snake pits that abound on cruise ships, in places you really would never expect.

Within most towns across America, what goes on in a bar, stays in a bar, away from the innocent glances of children. On a cruise ship, the bar's boundaries include every inch of a cruise ship and everything that happens within the ship as a whole, is public, and can and will be seen by children. This book illustrates that point.

If you raise your children with loose morals, I suppose any cruise ship would be perfect for you and your family. If you would not want to expose your children to the dark side of cruising, there are cruise lines to be avoided. Just from reading Barber's book and hearing his tales aboard ships from all the major cruise lines, you will discover which ships and lines to avoid and to warn others about.

Barber's book discusses various cruise lines, and their standards or lack there of with specific incident story telling. His critique of the industry is blunt, honest, to the point, with no punches pulled. He names names, full names.

While Steven Barber is telling this story, it could be told with similar details from any one of millions of men who work aboard or take vacations aboard any number of cruise ships. This is the type of man mothers warn their daughters about. You can really only do that thoroughly, if you read the book.
.
About The Author:

Steven Charles Wharton, irresponsible cruise ship DJ, grew up to become a habitual reality TV show star, and author Steven C. Barber, a well-respected documentary film maker. Barber is more recently known for his production company, Vanilla Fire Productions. (link opens in new browser)

Barber spent a year documenting three paraplegics as they prepared and trained for the world's longest wheel-chair race, 267 miles, 6 days and 28 entrants in the Alaskan Challenge. He has produced a film that redeemed his past social misdeeds with a single inspiring documentary. The film has narration by Dan Aykroyd and music by famed country music star Clint Black. He has another documentary film about a WWII Higgins Boat Commander, and this film is narrated by Ed Harris.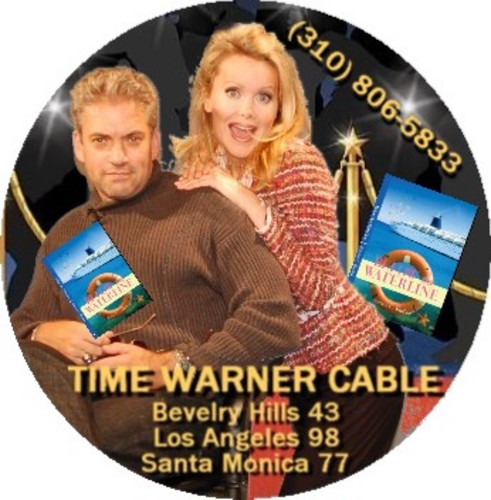 Summer 2008, Steven took a "book tour" cruise promoting "Below the Waterline." On his flight home, an amazing synchronicity!! Gavid MacLeod was sitting in first class... and was happy to meet Steven and read his book during the flight home to Los Angeles!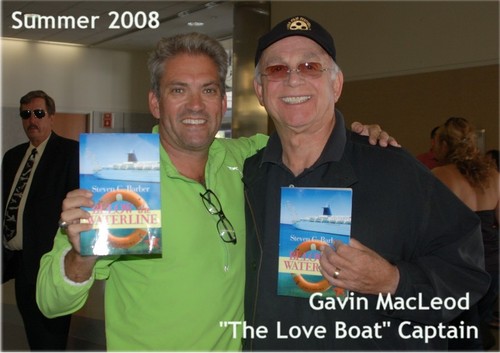 "This was the most amazing book I've ever read. It's a story about redemption." ~ Gavin MacLeod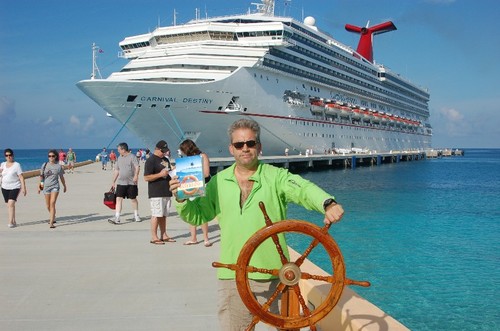 Cruise 2008: http://www.photoshow.com/watch/jB5fM5eU